Based in Falmouth, Cornwall at the southwest tip of the UK, FoAM Kernow is a non-profit organisation inhabiting the spaces between society, research, education and policy.
We enable people to develop creative and confident relationships with science and technology, merging our experience in science, programming, arts and design in a broad range of transdisciplinary research and education projects.
Our projects range from researching new forms of technology to explore ancient weaving knowledge and how virus structures affect disease, to reinventing the intersection of scientific culture with a 'post-truth' society, extending your senses under water to experience the effects of climate change and researching new artificial evolution technology for Aphex Twin.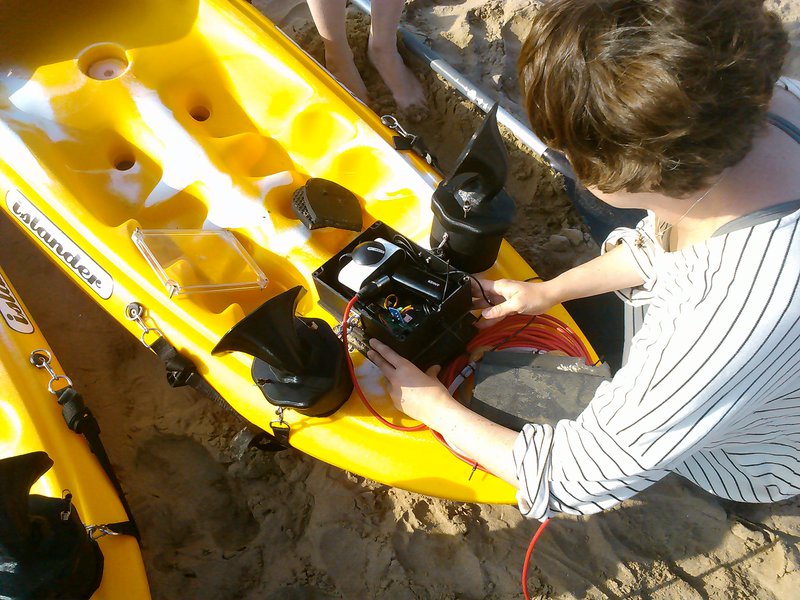 A sonic kayak being set up for the British Science Festival
FoAM Kernow's work has been featured on BBC Radio 6 Music, Official Raspberry Pi Magazine, The Economist, The Guardian and The Wire and has won the Soil Association's innovation award 2014 and the 2011 VIDA award. We publish our work in peer reviewed academic journals and have written for The Guardian and The Conversation on the rapid changes happening in research and education. We are committed to fostering a culture of free software, creative commons and open access through our work.
FoAM Kernow is registered in the UK as a non-profit organisation (Company No. 09073427). You can find our articles of association, and our environmental, equality and data statements on github.
Our 2019 activity report is available here and we have a mailing list for news on events and workshops. Current projects from our studio are highlighted below, and all archived projects, blog posts, events and publications are listed underneath: