Sonic Kayaks: how to build musical instruments for marine exploration
Posted Aug. 10, 2016 by Dave Griffiths
Here is a bit of a writeup of the gubbins going into the sonic kayaks project. We only have a few weeks to go until the kayaks' maiden voyages at the British Science Festival, so we are ramping things up, with a week of intense testing and production last week with Kirsty Kemp, Kaffe Matthews and Chris Yesson joining us at FoAM Kernow. You can read Amber's report on the week here.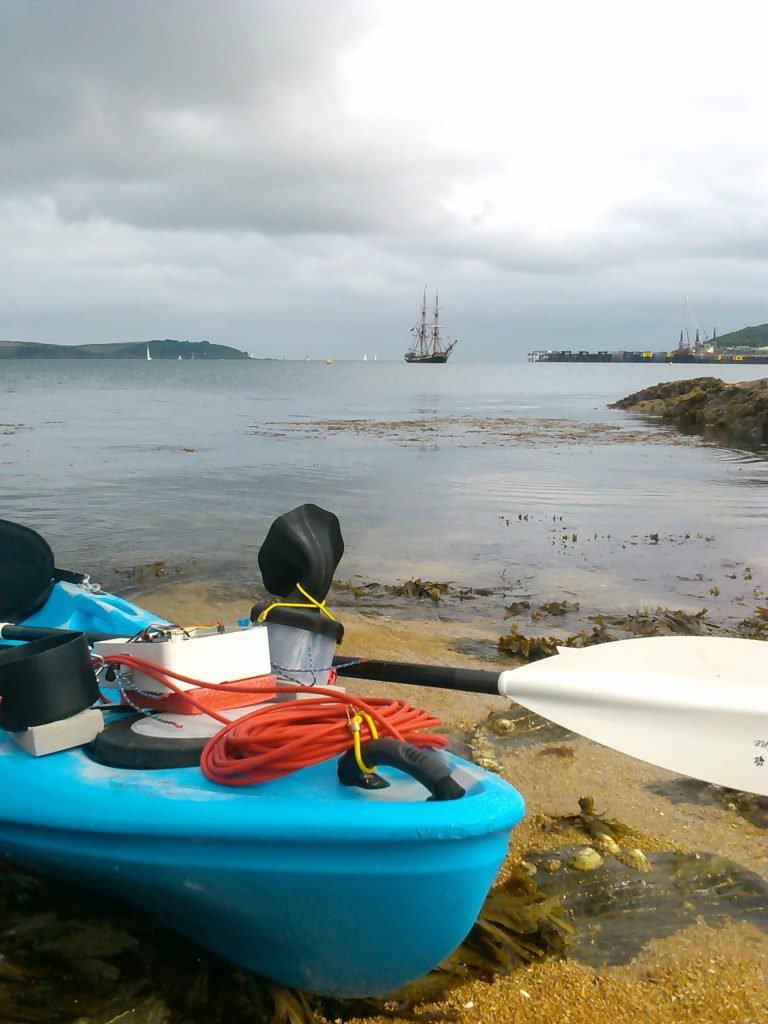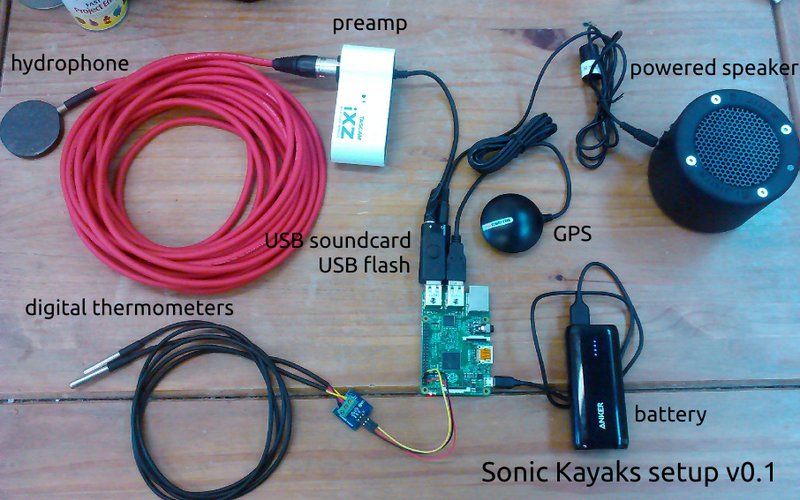 The heart of the system is the Raspberry Pi 2. This is connected to a USB GPS dongle, and running the sonic bike software we have used in many cities over the last couple of years. We have some crucial additions such as two water temperature sensors and a hydrophone. We have also switched all audio processing over to pure data, so we can do a lot more sound wise - such as sonify sensor data directly.
How to do this well has been a tricky part to get right. There is a trade off between constant irritating sound (in a wild environment this is more of a problem than a city, as we found out in the first workshop) and 'overcooking' the sound so it's too complex to be able to tell what the sensors are actually reporting.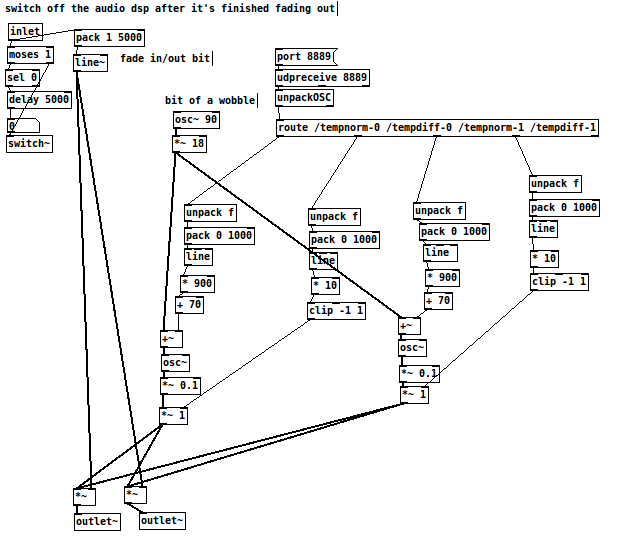 This is the current pd patch - I settled on cutting out the sound when there is no change in temperature, so you only hear anything when you are paddling through a temperature gradient. The pitch represents the current temperature, but it's normalised to the running minimum and maximum the kayak has observed. This makes it much more sensitive, but it takes a few minutes to self calibrate at the start. Currently it ranges from 70 to 970 Hz, with a little frequency modulation at 90 Hz to make the lower end more audible.
Here it is on the water with our brand new multi-kayak compatible mounting system and 3D printed horn built in blender. The horrible sound right at the start is my rubbish phone.
In addition to this, we have the hydrophone, which is really the star of the show. Even with a preamp we're having to boost it in pure data by 12 times to hear things, but what we do hear is both mysterious and revealing. It seems that boat sounds are really loud - you can hear engines for quite a long way, useful in expanding your kayak senses if they are behind you. We also heard snapping sounds from underwater creatures and further up the Penryn river you can hear chains clinking and there seems to be a general background sound that changes as you move around.
We still want to add a layer of additional sounds to this experience for the Swansea festival for people to search for out on the water. We are planning different areas so you can choose to paddle into or away from "sonic areas" comprising multiple GPS zones. We spent the last day with Kaffe testing some quick ideas out:
Looking at sea temperature and sensing the hidden underwater world, climate change is the big subject we keep coming back to, so we are looking for ways to approach this topic with our strange new instrument.
Created: 15 Jul 2021 / Updated: 15 Jul 2021