AccessLab for libraries - end of project review
Posted April 6, 2021 by Amber Griffiths
We've come to the end of the latest series of AccessLab workshops for broadening access to scientific information. This post is a debrief on how we've progressed and a review of the feedback.
The workshops have been run in collaboration with Falmouth Library, with additional help from the European Centre for Environment and Human Health, and funding from the Engaging Libraries scheme (Carnegie UK Trust, Wellcome Trust, Wolfson Foundation).
Our plan was to run three events, and gradually adapt the format for Falmouth Library to make it easier for their staff to run – putting ourselves out of a job.
The biggest unexpected issue was, of course, that we ended up running the events entirely remotely because of the pandemic. There are fairly comprehensive notes available here from our first go at this, but here are some additional thoughts:
The online format worked well, and had some benefits over in-person formats. One big benefit we saw was that the group discussions seemed more equitable, with everyone speaking very openly, whereas at in-person events there were often a few people who were mostly quiet (maybe social cues are weaker online, and perhaps that makes it easier to break free from social hierarchies?). We also had a greater diversity of people attend; rather than being restricted to local audiences in rural Cornwall, we were able to take participants from all over the UK and Europe.
After the first online event we lengthened two parts of the day that involved working in pairs in breakout rooms. These just take a bit longer because people haven't been sat next to each other already chatting and introducing themselves. Contrary to expectations, people said they weren't tired after working 10am-3pm online, and wanted it to be longer, so we added an hour in total which seemed about right based on the feedback.
We recorded all the talks, and invited researchers who had previously taken part in AccessLabs to deliver some of these. The recordings made it easier for them to prepare/adapt, and served as a backup in case anything went wrong. This is a big step towards making it straightforward for other people to run AccessLabs. The final AccessLab was almost entirely organised and delivered by Falmouth Library, with support from previous participant researchers. The only place we stepped in was to give an introductory talk, which could easily have been delivered as a recording instead. The restriction of having to move the events online definitely helped with the aim of making it easier for other people to run, and we'd probably question the additional effort needed to run these in-person in future.
Evaluation
We had a good spread of ages (16-24 years old 28%, 25-44 years old 22%, 45-64 years old 44% and 65-74 years 5%), and a slightly skewed gender mix (male 35%, female 53%, non-binary 6%). As could be expected for this type of event the majority of participants were degree-level educated (71%).
The anonymous evaluation from the 24 community participants was very positive. 100% said they had learned something new, 83% said it made scientific research seem more relevant to their lives, and 94% said they'd be more likely to try library events as a result of the experience. The numbers of participants who said they were 'very likely' to access this type of information went up from 17% to 89%, those who said they would be open to exploring new information and ideas went up from 83% to100%, and those who said they would challenge or question a point of view went up from 61% to 83%. We've copied in a selection of feedback comments below that we found particularly useful or pertinent.
Short term feedback (immediately after the workshops) from science researcher participants:
'It tapped into skills that I use all the time but had somewhat forgotten were actually valuable skills! It will also alter some of my teaching practice for my undergrad politics class who would benefit from a refresher on e.g. searching, assessing material.'
'It was an absolute joy using the skills I have learnt during my research career to collaborate on a research question with someone from a completely different background (art). It broadened my horizons and gave me a valuable insight into how an artist might approach the research component of their work.'
'It highlighted further barriers to accessing scientific research that I had not previously recognised (including the importance of asking the correct question and search terms). I also learnt more about the ways in which I can work to make my work more accessible, whether it's publishing code on Github or choosing open access journals to publish in.'
Short term feedback (immediately after the workshops) from community participants:
'I learnt that scientific research is like a 'conversation' and I think that 'Engaging Libraries' as a project should also be regarded as an ongoing conversation. Libraries are going to need to evolve and adapt to find how they can most effectively serve their community and this sort of project shines a torch into possible alley ways of future operation/public interest.'
'I would like to challenge the academic/scientific community to use more 'plain English' rather than jargon which I think can be a barrier and quite exclusive in the sense of excluding.'
'I wished we could have exchanged a bit of info outside of the breakout rooms, to share tips or methods we used to do the bit of research we did.'
'Given time in future I have been inspired to not only continue initial research question but much more not only for personal use but for elderly and young family members.'
'Despite the fact that it was an 'online' version of the original event, it all went smoothly and I felt well looked after (for example, the organiser sent clear instructions and had back up plan for any possible technological issues...even sent us a welcome pack at home with snacks, notepad, pencil and sharpener!'
Long term feedback (3 months after the workshops) from community participants:
'Following the AccessLab I have become much more interested in science and self study. I read non-fiction science books and listen to a variety of science-y podcasts. This event really has opened up an interest in learning more. I am much more confident in challenging people when they make a wild claim (particularly about covid/vaccines) but open to hearing their ideas before researching further. The event has made a massive change in my mindset and outlook. Thanks very much.'
'I learnt how to do that research by myself if something particularly took my interest in the future. The idea of looking across lots of studies rather than picking out the one that validates what i already 'know' to be right.'
'I have spoken with more knowledge and confidence with the specialist private clinic who treat me with this procedure. I've been much more happy to challenge them or at least ask for further information. In the past I just went on trust and didn't want to know more than how much it cost.'
'I don't feel the pre-publicity material fully explained what the day was all about, and would probably only have signed up due to a prompt from a member of the gallery staff, which is a pity as I think a lot more people would enjoy this learning experience.'
'I very much liked the little package we got before the day. It made the day something special. I also liked how all participants had the same snacks - it somehow linked us as a group of physical beings despite the distance and digital solitude. It made the day a more wholesome experience. Thank you.'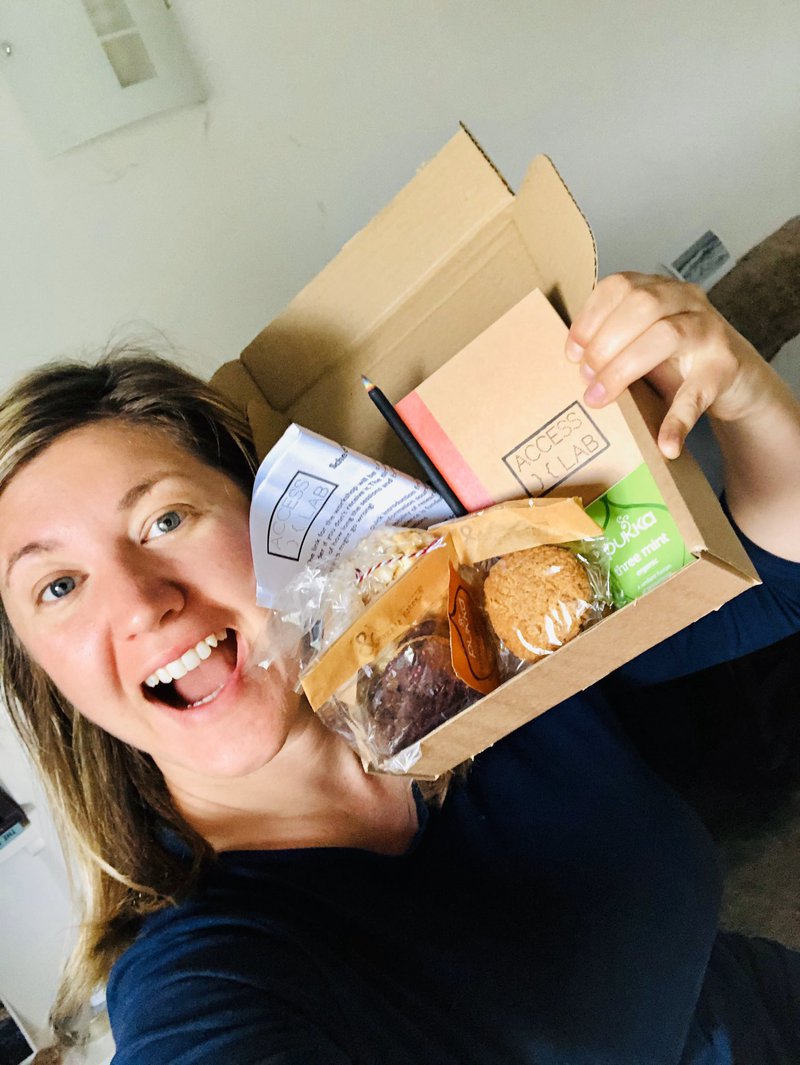 Happy participant with their pack!
Future plans
Falmouth Library are interested in running these long-term and independently, which is fantastic, but this is of course funding and staffing dependent. We were very lucky to work with Sarah Scott at the library who threw herself into learning and developing the format together, despite it being quite a big and entirely new thing to take on - but most library staff preferred to stick with their usual in-person sessions for existing audiences (craft groups for example). Expressing the benefits of reaching new audiences and diversifying offerings is something we need to work on. The library now has good contacts with local researchers and feel comfortable approaching those researchers to work together in future, which is part of the community and trust-building that we are so keen to facilitate. The library has also gained new experience running online events, which hopefully will prove valuable in lots of ways. There is talk of translating the format for museum curators, paired with researchers from other academic disciplines (e.g. historians or architects).
From our perspective the obvious next step is to seek funding to enable a proper roll-out, including professionally recording videos of the talks and making the materials very easy for researchers and others to replicate so people can run their own AccessLabs. The format wasn't originally designed with roll-out in mind, so it will take some time and thought to get that right. It was an interesting process to try to replicate some of the aspects of an environment of care that we try to foster for in-person events, and this is an important part of the considerations for any roll-outs that we're not involved in. We'd be interested in hearing from anyone who knows of funders that might suit this, as the funding scene in the UK is currently so restricted.
In related news we've recently launched the Evidence Support Initiative trial, which is specifically aimed at local councils, and has been developed directly from our experiences with AccessLab, with many shared aims. This new project has been developed with roll-out in mind right from the start, so perhaps there will be lessons that we can bring back to AccessLab as well.
Created: 15 Jul 2021 / Updated: 23 Oct 2021