Feral Livelihood Coaching Collective
We founded the Feral Livelihood Coaching Collective in mid-2020 as a small translocal team of artists, designers and ecologists who decided to take up the challenge and intrigue of coaching in our own communities.
The first training course took place in Nomi and Bolzano in the Italian Alps (June 2019), hosted by the community academy project of La Foresta. Feral livelihood coaching offers a supportive and exploratory space to think experimentally about our livelihood and business trajectories - including potentially sublimated elements such as household economics and administration - in order to open concrete options for action where none were visible before.
The work of the collective is guided by a feminist theory of diverse economies that reconsiders 'the economy' beyond just monetised transactions to include all the ways livelihoods are made – which is why we fluidly switch terms between feral livelihood coaching and feral business coaching.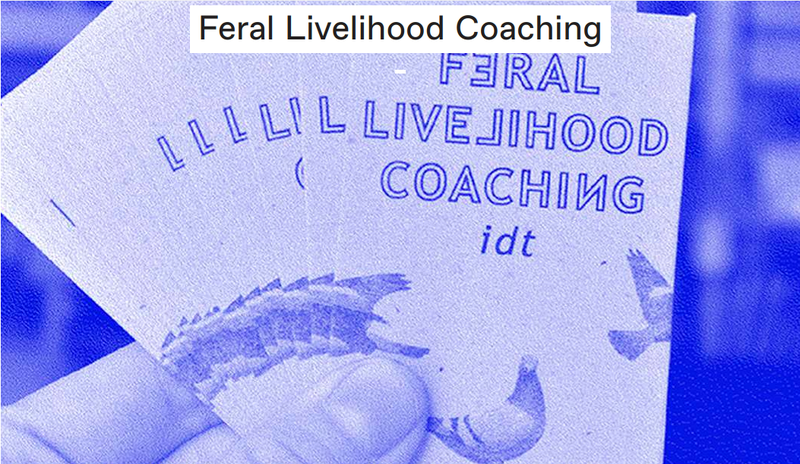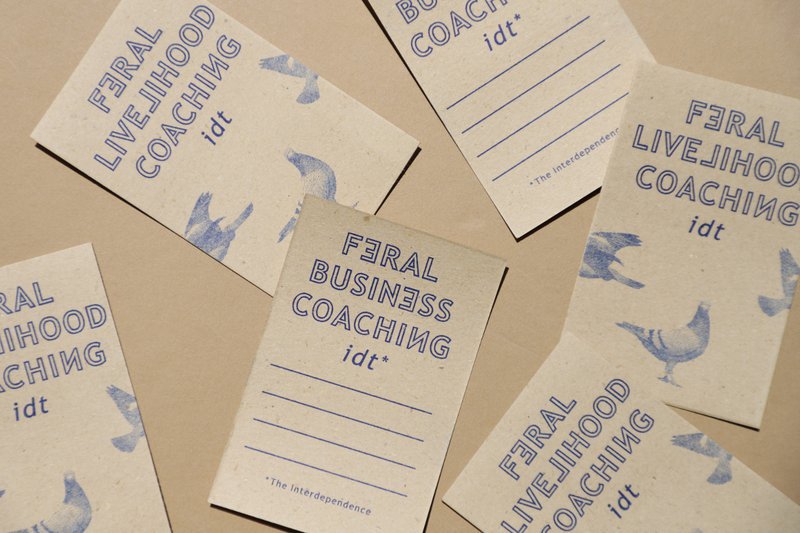 Feral Livelihood Coaching cards, printed on Notweed Paper. Image: Gaja Mežnarić Osole
Questions that we and the people we coach are experimenting with include:
What can business coaching for a radically rethought economy look like?
What wild range of options opens up in relation to livelihood and business when we bring theories of diverse and community economies into the coaching practice?
Can we imagine a kind of business coaching that goes beyond the individual or the team, given that we assume interdependence as a starting point for everything?
How can collective coaching practices take a morehan-human, ecological, animist or panpsychic stance? What does it mean in practice to coach a person or business along with its surrounding terrain, or its working conditions, as interdependent, entangled and invested co-actors?
With respect to the business of coaching itself, how to counter fixed ideas of professionalism, accreditation and a client-service relationship with other kinds of integrity, collectivity, exchange, encounter and care?
Feral business coaching is also and fundamentally a project of composting. We aim to break down the idea that making livelihood is everyone's own private business, while we also aim to break down the overwhelming associations of 'business' as an inherently transaction-based, competitive, efficiency-seeking, growth-seeking, market-facing activity. Through the act of composting we want to open up the realm of livelihood and business to other, more diverse and wilder possibilities.
The Feral Livelihood Coaching Collective is an endeavour initiated by artist and feral economist Kate Rich and developed together with Bianca Elzenbaumer, Gaja Mežnarić Osole, Maria Pasqualini and Sebastjan Kovač. It is intertwined with the collective's members' research directions with the Institute for Experiments with Business (Ibex), the Community Economies Institute, the Feral MBA (fMBA), the Alpine Community Economies Lab (Italy) and Trajna (Slovenia). The term 'feral' describes an approach that is wilfully wild, as in pigeon, as opposed to romantically or nature-wild, like the wolf.
You can contact us here.
Created: 02 Jun 2020 / Updated: 13 Sep 2022