Feral MBA - Inception
This event has passed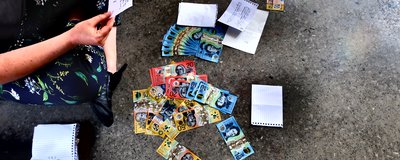 Feb 1 - March 1, 2020, Hobart (Various venues).
The Feral MBA is a radically re-imagined training course in business for artists and others. It responds to the towering failure of business as usual to rise to contemporary challenges. The focus of this business assembly is not on 'making it' in an extractive economy whose core assumptions of competition, productivity and endless growth are unarguably bankrupt. The aim instead is to arm participants with experimental skills and critical materials to consider and produce alternatives.
A pilot run of the curriculum (Feral MBA - Inception) will take place in Hobart (lutruwita/Tasmania) over Feb-March 2020. This highly experimental syllabus is open to arts practitioners and collectives, self-employed individuals, small business operators and others working with or curious about radical and experimental business methods.
Over a 5-week run of events, we will examine and hone our own practices and projects in relation to business and economy. The curriculum will take the form of seminars, site visits, hands-on workshops, (feral) business coaching, homework assignments and public events. Activities will include a crash-introduction to mainstream business and economic theory; an exploration of radical contemporary alternatives (including feminist theory that works with a transformative vision of economy as surviving well together); field trips to local art/business exemplars and a reappraisal of the 'dull' spaces of paperwork, management and administration as potential sites for wild imaginaries and meaningful work.
Feral MBA - Inception is a multi-hosted programme which will rove across Hobart.
Schedule of events:
Sat/Sun Feb 1-2 11-5PM, Opening Weekend Intensive, Moonah Arts Centre
Sat Feb 8 1-5PM, Half Day Session, Broom and Brine Farm
Sat Feb 15 1-5PM, Half Day Session, Studio 65
Thurs Feb 20 7-10PM, Public Conversation: The Thorny Question of Art and Economy, Eros+Thanatos, Mona. Tickets here
Sat Feb 22 12-4PM, Half Day Session, Resource Work Cooperative Tip Shop
Sat/Sun Feb 29-March 1 11-5PM, Closing Weekend Intensive, Good Grief Studios ARI
Participant call:
This call for participation is open to art students, recent graduates, established arts practitioners, producers, administrators and artist-run spaces, as well as small business operators, collectives and co-operatives faced by prevailing models of enterprise that are incompatible with a genuinely sustainable/generative business mission.
The Feral MBA programme will be free* to attend, however places are limited. Participants will be asked to commit to the full run of activities (two weekend intensives, three half-day sessions and a closing public event) in order to secure a place. Individuals and small organisational delegations are welcome to apply.
(*with conditions, see application form for details)
How to apply:
APPLICATIONS NOW CLOSED! COURSE FULLY BOOKED. Any questions or to join waiting or mailing lists, contact fMBA@feraltrade.org.
Finance statement:
Questions of revenue, sustenance and livelihood lie at the heart of the Feral MBA project,. The programme in Hobart is not in receipt of funding but stands as a DIY experiment in infrastructure negotiation, diverse resourcing and relationship-building. The project budget, including in-kind inputs, deals, trades, sponsorship and any cash windfalls, will be displayed at events as a featured artwork. This programme is supported and resourced by Moonah Arts Centre, Broom and Brine Farm, Studio 65, Resource Work Cooperative, Good Grief Studios, Contemporary Art Tasmania, Desponas Media Coven, 24 Carrot Gardens and others.
Artist statement:
The Feral MBA is a project by UK-based trade artist, feral economist and FoAM network member Kate Rich. Grassroots assistance in Hobart provided by artist, boxer and farmer Grace Gamage.
Feral MBA - Inception is designed and delivered as part of Kate's PhD research at the University of the West of England. Participant feedback will be sought and incorporated in future runs of the Feral MBA programme.
Location
Moonah Arts Centre, Moonah Arts Centre, Albert Road, Moonah TAS, Australia