Harvest Fest
This event has passed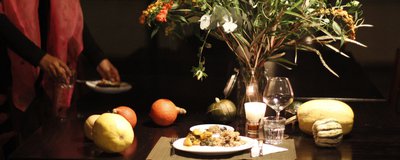 The history of food preservation takes us through many cultures, times, and associated rituals. Preserving foodstuffs was not only a preparation for the winter months, but also a communal experience where unique recipes and techniques were exchanged. The process combines age old traditions with a continuous quest for new ingredients to improve the longevity of products and discover new, surprising tastes. Different ethnic cuisines combine flavours and ingredients in a variety of ways, making today's preserves an area of continued playful innovations (such as a pickling cucumber with pine buds, or preserving eggs in anise tea).
We invite you to continue this tradition by meeting us at a 'jam session' (no pun intended) where we will sample and exchange the many wonderful preserves we have made this season. Bring your jams, oils, vinegars, smoked and dried foods, as well as fermented and distilled drinks to exchange for other preserved goods and increase biodiversity of your pantry for this winter.
Heb je tientallen potten abrikozenconfituur en wil je er graag een aantal ruilen voor ander ingemaakt lekkers? Kom naar de ruilmarkt van FoAM op 23 september.
Bij het aanbreken van de herfst is het tijd om de krachten van de planten te conserveren voor de winter: drogen, fermenteren, inmaken, roken, destilleren, pekelen… Er zijn verschillende traditionele technieken om voedsel te bewaren, maar er zijn ook veel speelse varianten. Wat dacht je van augurken met bloemen van dennebomen of aardbeien met basilicum. FoAM nodigt Gentenaars uit om hun technieken te onthullen en potten te ruilen. Zo kan je met een gevarieerd aanbod de winter in!
Harvest Fest is een onderdeel van Borrowed Scenery, een van de drie projecten uit Electrified III the responsive city (een samenwerking tussen Vooruit en SMAK)
Location
DOK, Splitsing Koopvaardijlaan – Afrikalaan, 9000 Gent, Belgium