Climate and Sustainability Action Week
This event has passed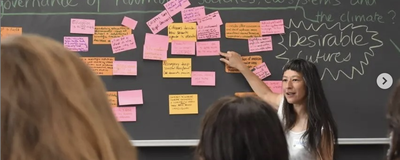 CSAW is an initiative of the EPFL (École polytechnique fédérale de Lausanne) in Switzerland.
The Climate and Sustainability Action Week explores collectively how to act upon complex sustainability issues. A week to understand the dynamics of a specific complex sustainability issue, and co-design relevant interdisciplinary student-led projects to address it, using innovative tools and methods. The pilot CSAW event in February 2021 focuses on Circular Economy.
There is a growing demand and need for engineers, scientists and architects to adapt their approaches, skills and tools to the complex societal issues they will be facing as professionals over the 21st century, such as mobility, health or energy. CSAW offers the opportunity to be trained in innovative tools & methods allowing to navigate this complexity.
Further information: epfl.ch
This CSAW event is now fully booked.
---
FoAM Earth (Maja Kuzmanovic and Nik Gaffney) are involved in the co-creation of CSAW as mentors, trainers and advisors.