REVEIL 2023
This event has passed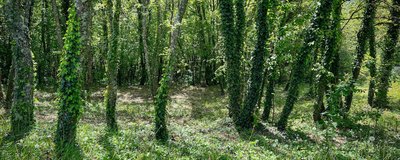 Reveil travels West on live audio feeds from streamers around the world at daybreak, making a loop over one earth day.
The broadcast will pick up feeds one by one, tracking the sunrise west from microphone to microphone, following the wave of intensified sound that loops the earth every 24 hours at first light.
Streams come from a variety of locations, at a time of day when human sounds are relatively low, even in dense urban areas. This tends to open the sound field to a more diverse ecology than usual. The Reveil broadcast makes room by largely avoiding speech and music, gravitating to places where human and non human communities meet and soundworlds overlap.
Each stream brings something different to the loop.
---
On Sunday morning, 05:13 - 05:44 CEST, surrounding the FoAM outpost on the edge of a forest, listen in on the chorus composed by multitudes of animate, inanimate and partially animate critters.
From the last house on the edge of the village, two microphones point towards the fertile edge between wildflower meadows and a young oak forest. The forest persists in a pocket of lush greenery between two highways, one leading deeper into the Balkans, and the other towards the Italian peninsula. Further afield (beyond the forest and the scattered coastal towns) stretches the blue haze and the liminal murmur of the Adriatic.
Intermittently streaming from our Istrian outpost, a work-in-progress, a refugium, a place for ongoing departures and perpetual homecomings, for temporary respite or lifelong retreat.