Open House
This event has passed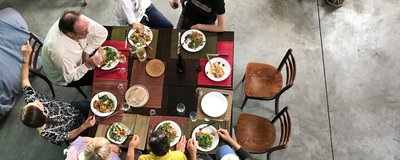 Enter a rarity cabinet of people and experiments: a lively display of human-plant hybrids, tasty table conversations, crisis-proof clothing and other curios in their natural habitat – the FoAM lab. Expect to experience a colourful collection of sketches and prototypes in various stages of completion, providing an insight into the collaborative and creative processes developed at FoAM. Our collaborators, artists in residence and transience are present as hosts to guide the visitors through the space and the activities of our arts-lab. The library is open for people who'd like to take a refuge from the busy parcours of the Open House to silently browse through our books and materials.
Throughout the festival our studio is filled with traces of several ongoing projects:
Future Preparedness case study of the Resilients project: a conceptual map and sketches of future re-enactment scenarios, designed to test the resilience of FoAM and its collaborators
Borrowed Scenery: the conceptions of an alternate reality narrative of the groWorld Initiative, with traces in several spaces - as mood-boards, diagrams and plant-computer interfaces, looking at plants as inspirations for a 'vegetal human culture' for the 21st century
PhoEfarium: A Temporary Lapidarium: images of the artistic research project on the poesis of the photovoltaic effect (PhoEf) by Bartaku
Débrouillardise et Coquetterie: endangered textiles and gestures preserved in stories, objects and media, collected and archived by our current resident Coralie Stalberg. Using methods from poetical ethnography and textile conservation, Coralie is curious about creative DIY recycling and maintenance strategies for textiles, in the context of radical shortage of resources during and after the 2nd world war.
Open Sauces cooking club: a display of posters and publications on FoAM's approach to contemporary food culture
LIREC documentary: interviews with scientists and engineers of the LIREC project about living with robots and artificial companions.
Corrupted C#n#m#: screen-shots and movie clips featuring the hissing cockroaches from Madagascar in their act of hardware corruption, an ongoing project by Angelo Vermeulen.
FoAM Bubbles: an indescriminate peek into the visual archive of FoAM and its 12 years of continuous activity, featuring hundreds of artists, scientists, designers, cooks, gardeners and other transdisciplinary participants in a range of situations and continents.
In addition to the continuous displays, each day of the festival has a different thematic focus paired with a live activity:
Thursday: food. Olivier van Hamme is invited by FoAM to conduct an experiment with his 'intimate tables', where two people share food on a table designed to facilitate and challenge physical contact between the diners. On the menu are spring-themed bites as edible bouquets and spicy ice-cubes from FoAM's kitchen.
Friday: resilience. You can be a part of an experimental future prehearsal examining different ways of working together as an arts-lab in possible futures. Several artists of the Resilients project are present at FoAM's weekly Friday Apero, where stories of cultural resilience are exchanged.
Saturday: plants. Dave Griffiths is holding a play-testing session with the permaculture game germinationX. Daniel Berio, Andre Cavalheiro, Ludmila Rodrigues, Marloes van Son and Walid Wardak - students of the ArtScience department of the Royal Academy in Den Haag showcase their experiments from the groworld research seminar in an attempt to answer the question: what would a vegetal culture be like? We end the festival in a festive mood, by bottling our home grown compost-juice, symbolising the primary role of art-labs in the cultural landscape: as fertile compost heaps, from which fresh cultural expressions continuously sprout and propagate.
Location
FoAM - Brussels, Koolmijnenkaai 30-34, 1080 Sint-Jans-Molenbeek, Brussels, Belgium