Acoustic Ecology Salon
This event has passed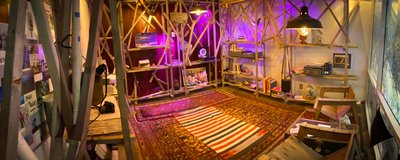 A study room, an immersive installation and a portal into a parallel present or a possible future. It is a place shapeshifting between a misplaced listening bar, a forgotten lounge, or a panpsychic resonance station. An exploded publication. The visitors are invited to explore, to piece a story together from scattered hints and fragments. A story about attuning to the rhythms of the desert, told through sound, light, objects and ambience. A story that can only be known through material traces and speculation.
Listen, browse, read, meditate. In company or in solitude. In solidarity with those unheard others you inhabit the desert with.
Created by: FoAM (Maja Kuzmanovic and Nik Gaffney) and Ron Broglio
Chief Architect: Luke Kautz
In collaboration with: Amy Carolyn Watson, Emily Pattni, AJ Allison, Nikka Balcazo, Rigo Berber, Kara Deacon, Katie Hawkins, Akil James, Yesica Juarez, Oladeji Sholola, Michael Stears, Mia, Erika Hanson, Jennifer Duvernay, Rene James, Shari Laster, Matthew Toro, Stacey Moran, and Adam Nocek.
Supported by: The Institute for Humanities Research, Global Institute of Sustainability, Desert Humanities, Center for Philosophical Technologies and the Panpsychic Development Fund