Attunement to the desert
This event has passed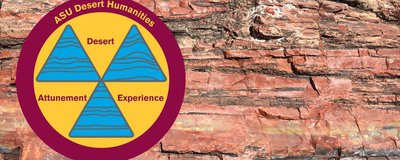 At the opening event of the Desert Humanities Initiative, FoAM and Timothy Morton discuss what it means to attune to the desert landscape. What does the desert ask of us and how might it change how we dwell?
The event begins with "Dust & Shadow | Redux", an ambient lecture-performance by FoAM (Maja Kuzmanovic and Nik Gaffney), followed by a lecture on speculative futures by cultural theorist Timothy Morton.
Video recording of this event by ASU NOW: streamed on Youtube and here (post-produced including high resolution version of FoAM's video).
The event ended with the opening reception at the Hayden Library
---