Art, AI and Everything Else
This event has passed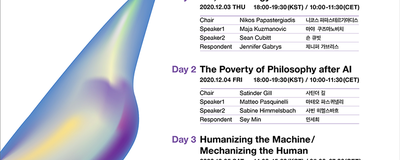 예술, 인공지능, 그리고 그 외 모든 것
For over two decades, Art Center Nabi has been committed to exploring the role of the arts and new technologies to gain new insight in human possibilities and addressing social problems. Nabi has invited artists to develop projects that use technology to overcome social divisions, counter to racial violence, debunk stereotypes, as well as nurture emotional connectedness, cultural engagement, political participation. In general, it has promoted the role of the arts in enhancing social solidarity and operated on the assumption that it can improve the quality of life.

In celebration of two decades of practice Nabi will host a series of web-based seminars on Art, AI and Everything Else.
FoAM's co-founder Maja Kuzmanovic is one of the speakers at the opening seminar.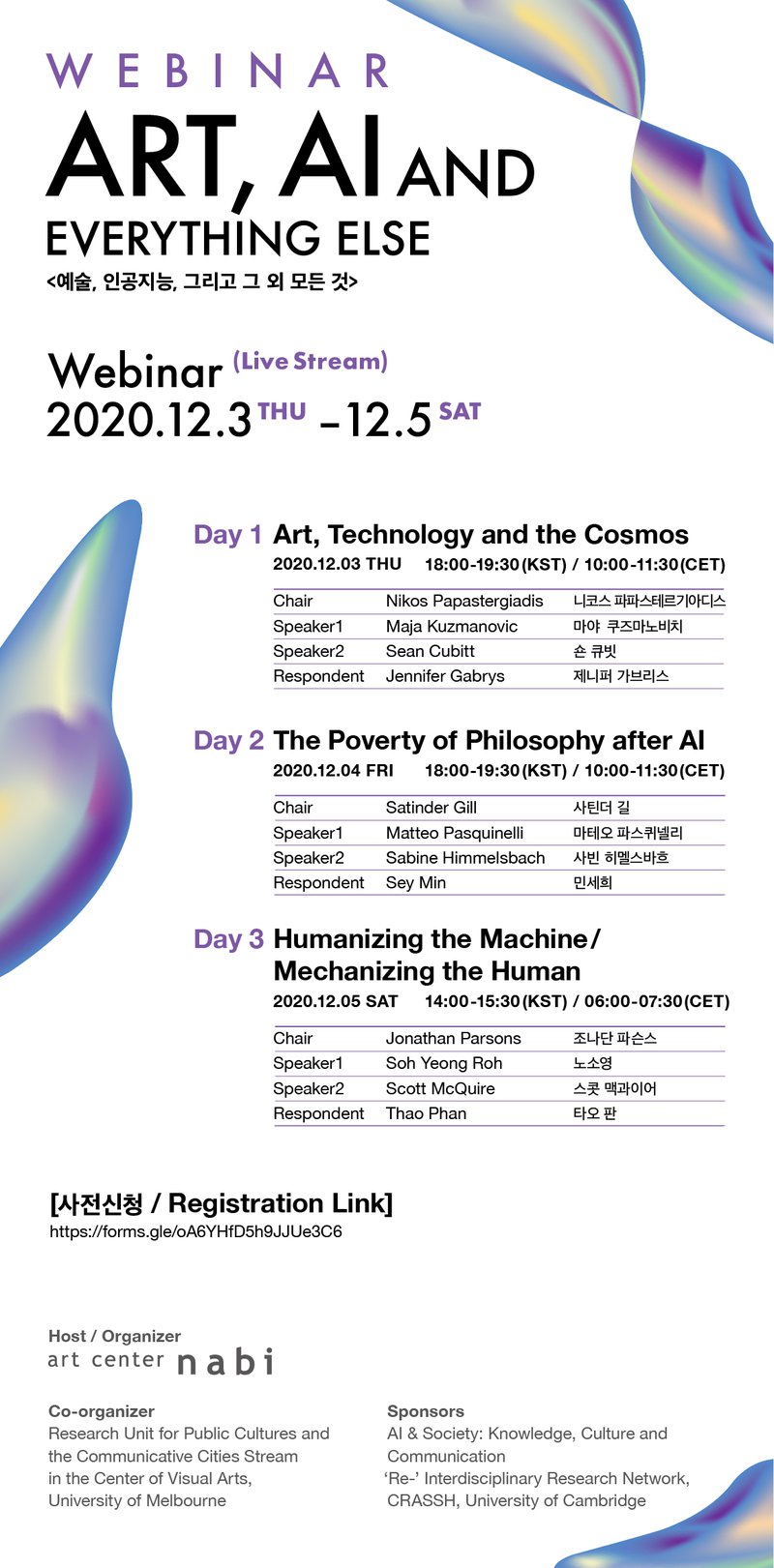 RSVP using this form
---
Join us at the opening seminar on Art, Technology and the Cosmos at 10AM CET on the 3rd of December 2020
Chair: Nikos Papastergiadis
Speakers: Maja Kuzmanovic & Sean Cubitt
Respondent : Jennifer Gabrys
A pan-demic is a good time to evoke the pan-demos. Mobility has become a central feature of contemporary society. Art has been used as an advocate for flow, interaction and exchange, as well as a way of opposing disruption, exploitation and inequality. In this first seminar we throw open the scale of enquiry and experimentation. Art is a technology, and Cosmos is the space-time of everything. However, an ancient definition of cosmos refers to the activity of making a space-time attractive for the Other. The recent developments in contemporary art have been directed towards removing political boundaries and enhancing sociality. When schedules, plans, and models for organizing our 'liquid life' are on pause, space-time becomes an object of anxiety. This first session will be surveying the history of technology and how it brings us to the point that we find ourselves. We will zoom out to the widest questions and zoom in to specific examples from recent contemporary practices in art and technology. We will explore the possibilities for critique, and the possibility for art to stimulate sociality and solidarity in an era of masks and the fear of contagion that too easily becomes fear of community. How will artists conduct face-to-face encounters and operate skin-to-skin exchanges? Is a virtual public sphere and life on Zoom enough?