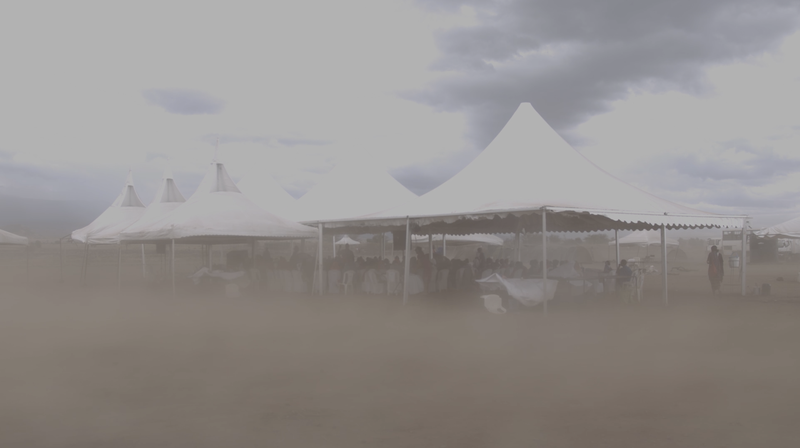 Hosting in Unruly Situations
Posted March 6, 2023 by Theun Karelse
A conversation with Frank Heckman of The Embassy of the Earth, about hosting the White Mountain Future Search, a Massai led initiative to regenerate landscapes and livelihoods in the White Mountain (Mt. Kilimanjaro) region in Kenya and Tanzania (2017 – present).
Frank: Starting in the sixties last century, social scientists Eric Trist and Fred Emery, and, later, Merrelyn Emery, translated "Open System Thinking" into shared learning, planning and design. Their social ecology has many applications, such as plan and organisational development for the business world, institutes, cities and regions. But also resolving conflicts between disputing parties, as well as establishing strategic alliances between organisations, building networks, and entering into long-term partnerships. And now, in facing climate emergencies, land degradation, and other trouble, their work is a 'gift from the gods' and a powerful method for ecological adaptation.

Frank: In 1990, one phenomenal study appeared: Flow, The Psychology of Optimal Experience, by Mihaly Csikszentmihalyi, professor and chairman of the Department of Psychology at the University of Chicago. Prof Csikszentmihalyi showed in a worldwide study that people are able to achieve a groundbreaking performance if there's a match between challenge and capacity, with joy and contentment as an important by-product. These investigations have revealed that what makes experience genuinely enjoyable is a state of consciousness that Czikszentmihalyi calls flow – a state of concentration so focused that it amounts to absolute absorption in an activity, pushing past boundaries into a new reality.

Frank: I was in my early 40s, so, in many ways, might have seemed a 'lost cause' as a student by the Professor. But he seemed to enjoy our chats. Sitting in his office one day, I asked him – isn't there a social component to this? Could flow be applied at the level of the group or community? Under the guidance of Mihali Csikszentmihalyi, we successfully researched how flow is grounded in the dynamics of community, the group. This became one of the pillars of Embassy of the Earth.

Theun: It is good to note, here, that Frank started out as a sports teacher, and for decades practiced at the highest level of martial arts. So subconsciously the Embassy may have incorporated some aspects of the Dojo.
Frank: As one of our first missions was in Kosovo, where the tension of war was still in the air, we made it very clear to all: Embassy of the Earth is a free haven, a secure gathering space that includes and goes beyond religion, politics, and power. Always working in the region where the crisis or conflict needs resolve. So through the unruly situations in which we found ourselves, Embassy of the Earth began to develop its full potential. It now has a long track record of hosting communities and various constellations of groups and institutions, helping to reach escape velocity from deep, intractable deadlocks.

Frank: The Embassy operates in four spaces: The space reserved for stillness, ceremony, our connection to Earth is called the Sacred Space. People put the pieces of the puzzle together in the Shared Space, where they jointly learn, plan and design. When plans and designs are prototyped, put on the ground, materialised, that's the Work Space. In the World Space, plans and designs are checked against the backdrop of the larger global environment – online communication, sharing knowledge and databases, online group meetings, and discussions.
Theun: I first encountered the Sacred Space during the alternative COP21 the Embassy held near Paris, at Chateau Millemont. A week before indigenous elders and environmental activists arrived, the drumming had already started. I was part of the support team, arriving the evening before the main gathering. Stepping out of our little van, the drumming's serene power echoed all across the land. What followed was a week of ceremony, led by indigenous wisdom-keepers from across continents. It was unlike any gathering I'd ever seen.

Frank: Unlike many NGOs working to resolve crises, the Embassy does not determine action plans or solutions in advance. Plans and actions originate locally and collectively, through the people who each carry a part of the solution and are directly involved in making the future manifest. To address the true complexity of the situation, plans and actions must emerge from all problem owners involved at the bioregional scale. People find common ground by setting a shared vision for their most desirable future.

Frank: Adequate preparation involves engaging with all social strata, from visiting each and every Maasai village and district involved at grassroots level, to an audience with the Secretary General. Relevant representatives are then invited to attend a future search gathering. Establishing neutral ground is vital. This means each participant leaves their 'hat' (function, rank, status) at the door.

Theun: Hosting the space and process is a finely honed skill. This is true for any public event, and with FoAM we have hosted many and widely varied public situations. Preparation is crucial, particularly if it is addressing societal change. I witnessed this first-hand in the Embassy's most prominent current journey, which fostered Kenya and Tanzania's White Mountain community, who are greatly affected by drought and climate change. I saw how Maasai were gathering in the specially set up tent. Frank had intuited that having the region's women lead in song could help establish the space as neutral terrain. This had an absolutely amazing impact. Within moments, local villagers and political functionaries were dancing together. And in the following days an enormous energy started to build, as it slowly dawned on people that they were shaping their future themselves.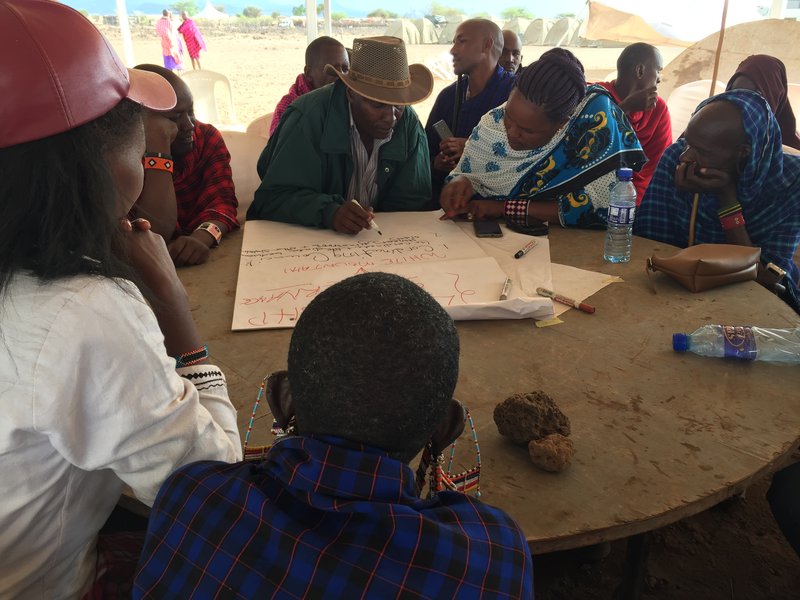 Frank: The various spaces contribute to the process. At the White Mountain future search gathering, each night we would have a great fire. And naturally people gather around it. Soon elders start to speak. A woman speaks about the land, their songs, a man speaks about how they read clouds, and ancient knowledge about the weather patterns around Mt Kilimanjaro. Sacred space adds depth to feelings and relations. That is how the Embassy hosts the bioregional regeneration of peoples, cultures, and landscapes.

Theun: I realised that hosting can be a survival skill.
---
This text is featured as part of FoAM's Anarchive
Created: 01 Mar 2023 / Updated: 08 Mar 2023