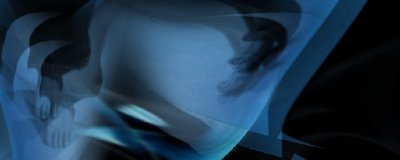 Abstract
'In human format' is the collaboration between Bent Object's music and FoAM's visuals. Brussels-based artists Peter Van Hoesen, Susanne Bentley (Bent Object), Maja Kuzmanovic and Nik Gaffney (FoAM) present an intense audiovisual language. They draw the spectator into a world where sounds and patterns shift and blend organically into each other.
Music as collage, sound as experiment. This DVD offers a dense musical composition linked to an even more intense visual layer. FoAM stretches our visual imagination beyond the average digital landscapes. Organic textures collide with byte-based forms, linked to sounds through changing aesthetic tactics: at times evenly matched, at times side-stepping and attaching themselves to different musical events.
"How far can we stretch the limits of our will to explore?" asks Susanne Bentley in 'Wired Sympathy', introducing a cascade of fragmented media sounds and swirling visuals that create an erratically evolving world. Stuttering images, flashing urban forms and fractured vocals repeating signs & slogans: a double dose of condensed modern living.
Tracks:
01 Failed irimi / Maximised profits
02 Mark one object
03 Bad day
04 Back to base
05 Drop
06 Wired sympathy
07 Temporary object theory
08 Final call Supercrew
09 Edit, restart
10 Legitimate goal
11 Release the object
12 Failed irimi / Intense longing
Sound by Bent Object: Peter Van Hoesen (BE) and Susanne Bentley (NZ)
Visuals by FoAM: Maja Kuzmanovic (HR) and Nik Gaffney (AUS)
Mastered by John Sellekaers at Metarc, Montreal
Graphic design: Max Tilgenkamp

Full text
Failed Irimi
Final Call (excerpt)
Temporary Object Theory
Release the Object (excerpt)