Edible Perfume
This event has passed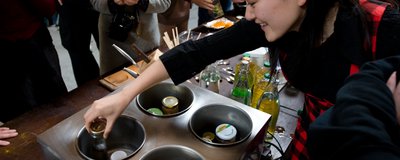 Edible Perfume is a hands-on workshop about extracting and composing aromas and flavours, inspired by the concept of flavour pairing. The workshop is led by Maki Ueda (Scentlab), assisted by Nik Gaffney (FoAM).
A natural smell is often extracted from a material using chemistry techniques for retrieving essential oils, such as distillation, ethanol extraction, or oil maceration. In the Edible Perfume workshop, these techniques will be adopted in the kitchen. In a temporary laboratory setup, participants will experience the complete process of extracting aromas and flavours from raw food ingredients. Learning from the chemistry of flavour pairing, participants will couple aromatic extracts to compose complex and surprising scents.
Imagine an oil flavoured with basil and black tea, or coriander and ginger; a liquor scented with strawberry & carrot, or grapefruit and Parmesan cheese… At the end of the workshop, each participant will be be able to take home their flavoured and fragrant oil and/or liquor. These edible perfumes remind us to enjoy the harmony and complexity of the interactions between the sense of smell and the sense of taste.
The workshop will proceed as follows:
step 1: introduction 
step 2: processing the material – cutting, chopping, grinding, etc
step 3: extraction – ethanol extraction, oil maceration, infusion, etc.
step 4: composition – balancing the strength of two flavours so that they create harmony.
Have a look at this site for the procedure (with photos): http://scent-lab.blogspot.com/2008/10/perfume-to-ingest.html
If you would like to participate in this workshop, please send an expression of interest, before the 10th of November 2008. Places are limited to a maximum of ten participants.
Instructions for participants: http://lib.fo.am/edible_perfume
A few more images from Maki: https://picasaweb.google.com/witchlab/YzxYr
Location
FoAM - Brussels, Koolmijnenkaai 30-34, 1080 Sint-Jans-Molenbeek, Brussels, Belgium