Another reply from a now resigned Minister of State for Universities, Science, Research and Innovation
Posted Dec. 4, 2018 by Dave Griffiths
Our second reply in the series from Sam Gyimah MP arrived shortly before he announced his resignation from government. We've written a reply to be sent via our local MP anyway, although I doubt he will see it.
This letter I think perhaps gets us closer to the assumptions at the heart of a lot of UK policy, a surprisingly simplistic view that research is entirely something done by universities, and businesses (which only have a single shape or purpose) are there to 'exploit' this research which is handed down to them to boost the economy.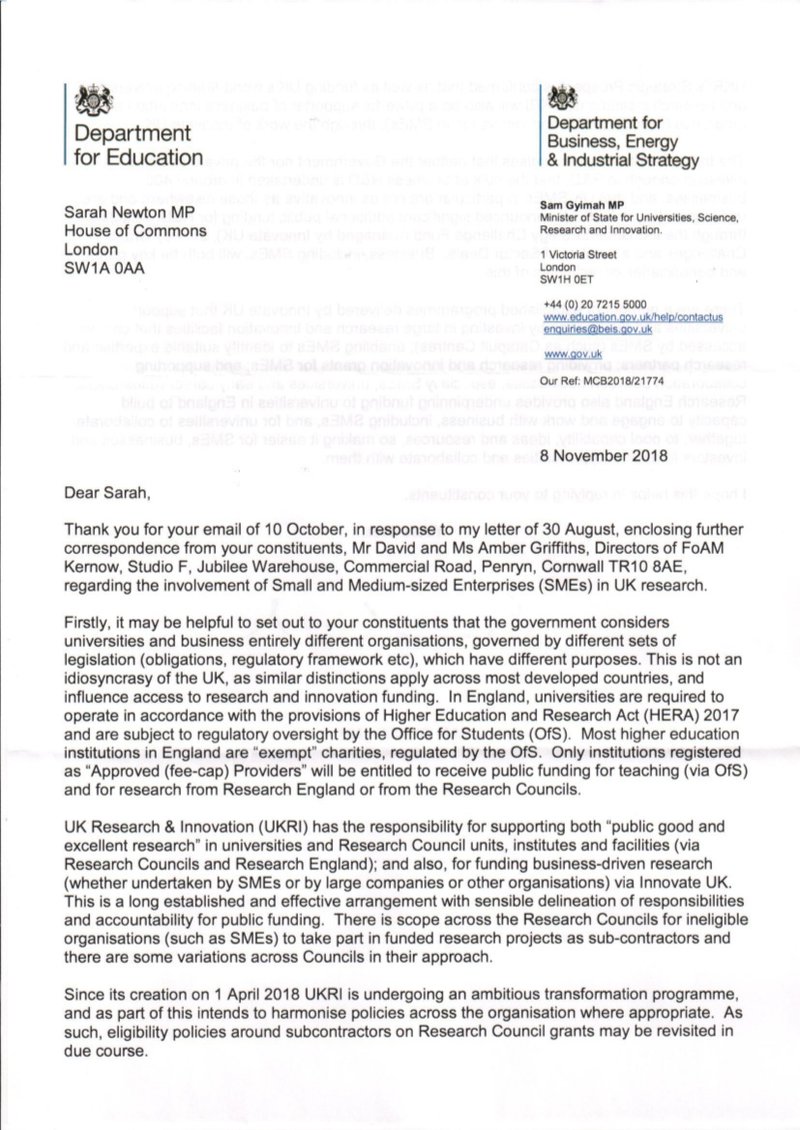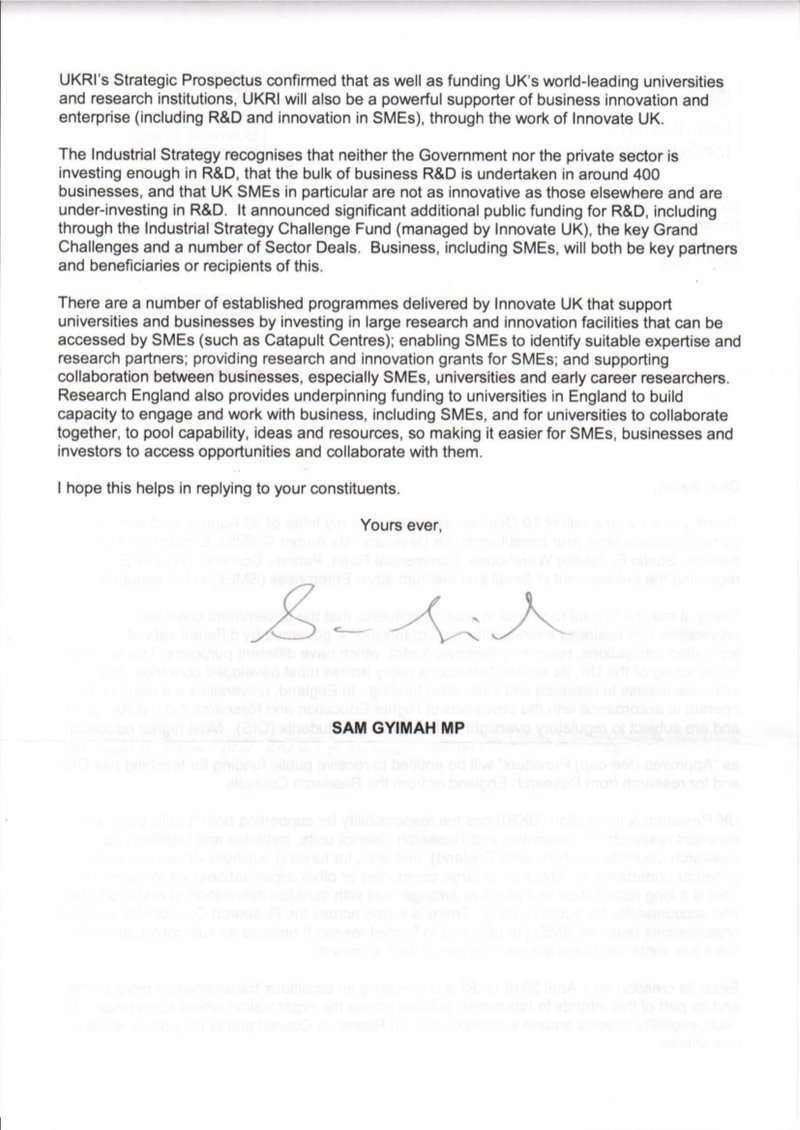 We have replied with the following:
Dear Sarah,
Many thanks again for forwarding our reply to Sam Gymah MP, and we were pleased to receive his reply. We sadly note his resignation from government over the revelation that the brexit deal damages UK research and innovation, but broadly support his action in doing so.
In response to Sam's claim that universities and businesses are considered to be different organisations I realise that he has entirely misunderstood the nature of our complaint, and this exposes a curiously out of date understanding of the research community.
The research sector does not comprise a simple divide into universities on one side and businesses on the other - it consists of a diverse range of differently shaped organisations such as social enterprises, independent research organisations, charities and SMEs conducting research - all of whom are currently banned from publishing their work (unless they are unpaid) when working on nearly all UKRI research projects.
We do not wish to undermine the status of universities (which are already under threat from a range of recent changes), but enable them to collaborate effectively with a wider range of organisations, which is necessary to improve the reach, accessibility and applicability of their work.
In such a uniquely restricted landscape as exists in UKRI funding, it should not be surprising to the minister that UK SMEs are unlikely to invest in research compared to their counterparts in other European countries. The EU Horizon 2020 programme for example, specifically encourages SME participation and allows them to publish their research, or indeed lead projects - as they are judged in the same manner, and have to compete with universities.
Kind regards,
Dr Amber Griffiths
Director
David Griffiths
Director
FoAM Kernow
Studio F,
Jubilee Warehouse,
Commercial Road,
Penryn
TR10 8AE
Created: 15 Jul 2021 / Updated: 15 Jul 2021